Pastor Reginald D. Jones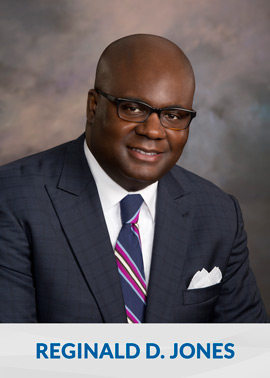 Passionate leader, illustrative preacher, servant leader, motivational teacher, and compassionate pastor are adjectives that have been bonded with the person of Reginald D. Jones. Called to the position of Sharon Baptist Church (SBC) pastor in November 2001, a historical religious and social pillar in the city, Pastor Jones consented to God's plan of expeditiously transitioning the one-hundred and eighty-nine year old church to prepare itself for a contemporary Christian experience to meet the challenges of the modern world and God's people. Establishing numerous ministries, organizing a corporate leadership structure, and spearheading a biblically based economic system, while overseeing the development of a major campus enhancement project, was no small task for the then Emory University seminary student. However, God has proven faithful by leading this gifted and talented young pastor to contribute his spiritual and physical resources to transform both church and community.

While Pastor Jones exemplifies that all things are possible through the power of God, it is quite evident that he desires the same for the congregants of the SBC family. His God inspired sermons, seminars, symposiums and church conferences transmit the common uplifting message to better each member's Christian lifestyle through the power of the Holy Spirit. Since his tenure began, SBC has experienced unparalleled spiritual growth and SBC continues to witness increased membership annually of which Pastor Jones attributes to the Transformational Power that God has bestowed upon SBC's congregants and ministries. Pastor Jones is widely known as an effective communicator, meticulous administrator and fiscal steward. Furthermore, he is passionate about his divine calling and uses his spiritual gifts, wisdom, and intellect to expand God's Kingdom by thoroughly equipping God's people.

Pastor Jones has been committed to matriculating in the academy to compliment the spirituality of the church. He earned a Doctor of Ministry degree from Columbia Theological Seminary and was previously awarded a Master of Divinity degree from Emory University's Candler School of Theology, both institutions located in the metropolitan area of Atlanta, Georgia. Pastor Jones also holds a Master of Health and Science Degree from Armstrong Atlantic State University, Savannah, Georgia; and a Bachelor of Arts Degree in English from South Carolina State University, Orangeburg, South Carolina.

Prior to devoting himself to full-time ministry, Pastor Jones worked in the corporate sector and the business skills that were applied during that season of his life are currently benefiting his administration practices today. Pastor Jones has expanded the full time staff and volunteer ministry teams at SBC and continues to be on the forefront of socioeconomic growth in the greater city of Augusta. Pastor Jones also serves on boards of corporations and non-profit organizations.

Though he has received awards for numerous accomplishments, Pastor Jones believes being a servant to God's people at Sharon Baptist Church is his principal honor. There is no greater joy that he gets than shepherding God's people into spheres of greatness where they are able to experience Godly faith, fortitude and favor. By the testaments of the parishioner's lives that have gone from good to great, and the souls that have been added to the church since his ministry began at SBC, it is apparent that God is: "Changing Lives Through the Power of God!"